Year 3 - Ver Class
Teacher: Miss Higgins Support Staff: Mrs Horwood
Lockdown 2021 Key Information & Documents
Daily lessons will be live streamed via Microsoft Teams. This will be accessed via logging in with your child's personal details which will have been sent to you in a workpack. Should you have any issues accessing your child's account, please email our office (office@watersideprimaryacademy.org).
The Live Lessons in the timetable below will also be saved onto Microsoft Teams so that you can access these at a time convenient to you. This will hopefully help families with more than one child.
All Live Lessons will last between 10-30 minutes, with follow on activities linked to the lesson. Completion of these activities is expected by all children.
Daily Timetable
Please click on the links in green for resources.
Friday 8th January
9.15am - Maths
LO: Related multiplication and division calculations.
After watching/taking part in the introduction, complete pages 12, 13 and 14 of your 3B Power Maths Book.
Power Maths 3B Practice Book Answers
If you finish quickly, there are additional challenges:
Power Up
Maths Challenge
SPaG Activity
LO: Use comparative and superlative adjectives.
This can be done at any point throughout the day, but you may have time after maths to complete it. Complete the lesson here: https://classroom.thenational.academy/lessons/to-investigate-suffixes-er-and-est-comparative-and-superlative-cmt62r
Then, have a go at this online worksheet: https://www.liveworksheets.com/tv1325tf
11:00-12:00 – PE
Mr Yearwood will be teaching the class some PE!

1.15pm – PSHE
After taking part in the introduction, you will need to watch this video: https://www.childnet.com/resources/video-lessons/the-s-rule
Then, complete one of the activities at the end:
- Create your own 'Keep it safe or give it away game' – you might want to make cards that people turn over and then have to decide if they would keep it safe or give it away.
- Make a poster to teach people that passwords are like toothbrushes!
- Design a superhero who helps people to protect their personal information.

2:15pm – Computing (optional, but fun!)
Go onto the Scratch website below and try the tutorial "Getting Started". The video and steps will teach you how to make a character move and make a sound.
https://scratch.mit.edu/projects/editor/?tutorial=all
When you have managed to make the character move, try the "Add a backdrop" and "Add a Sprite" tutorials!
Optional extras:
If you would like extra work to do throughout the day, here are some websites that you can do some on!
Maths
www.TTrockstars.com You have your own log ins for these – if yours is not working, please message me through Teams and I will try and sort this for you. Play the 'gig' or 'garage' games – these have been set to "Automatic Training Mode", so the computer will automatically change your times tables when you are getting lots correct!
https://www.topmarks.co.uk/maths-games/hit-the-button You do not need to log in to this website, and there is also an app version. You can practise your number bonds, halves, doubles and all your times tables too!
https://www.multiplication.com/games/play/granny-prix-multi We have played this a few times in class! Design a granny and her wheelchair, and then race the other grannies! You will go faster the more times tables questions you get correct!
Reading
www.oxfordowl.co.uk Class login: gade2020 Password: ABC123
From here, you can choose from the Oxford Owl eBook Library which has lots of books on, including ones that can be read aloud to you! There is also the Read, Write Inc library, and WordSparks which has some audiobooks for you to listen to.
www.getepic.com Class Code: xqy2020 (then find and select your name). There are lots of ebooks on here, some can be read aloud to you and some have quizzes! On here, I can see which books you have read and will also assign you books related to our Pathways topic or science work. You can choose from any of the books on here to read if you see any you like.
Writing
https://www.talk4writing.com/wp-content/uploads/2020/06/Y3-Lockdown.pdf
https://www.talk4writing.com/wp-content/uploads/2020/04/Y3-Dean-Stone-Trolls.pdf
https://www.talk4writing.com/wp-content/uploads/2020/05/Y3-Jungle.pdf
https://www.talk4writing.com/wp-content/uploads/2020/06/Y3-Unicorn-F.pdf
There are lots of lovely writing ideas in these booklets! They have video tutorials and lots of activities to complete.
https://writingsparks.com This website has lots of writing challenges! Click on "Write now" and choose the type of writing you would like to do.
https://www.pobble365.com This website has a daily writing challenge, all based around a picture. There are story starters and questions to help you think about the story you would like to write.
Science
Find out about fossils from the Natural History Museum.

You will need to create a log-in the first time you access the free activities on Explorify. Choose the science topic 'Rocks' from the drop down search menu and then choose an activity.
Geography
https://lizardpoint.com/geography/ Practise and then quiz yourself on the location of countries, counties, cities and rivers. Your choice!
Play Geoguessr to guess where in the world you have been "dropped"!
https://world-geography-games.com/world.html Choose a quiz/game to practise your geography knowledge.
PSHE
Find out what the bank NatWest thinks you need to know about money by playing some of their games: https://natwest.mymoneysense.com/students/students-5-8/
PE
If you can play outside, go for it! Otherwise, here are some indoor activities you could do: https://www.bbc.co.uk/teach/class-clips-video/physical-education-ks1-ks2-lets-get-active/z72yjhv
To relax your mind and keep your body active, try some Cosmic Kids Yoga.
Key Documents
Week 1
Key Information
PE - Children in Gade class participate in PE lessons every Monday, Thursday and Friday. Please ensure that your child has the correct PE kit in school on these days.
Reading - Children in year three and four are expected to read every day at home for at least 30 minutes. Reading records should be completed and signed by parents and brought into school on a daily basis. School reading books should be brought into school everyday for Reading for Pleasure sessions (R4P). Children should read their school reading books more than once for understanding and fluency. For more information, please visit our 'Curriculum' page.
Curriculum Information
The curriculum objectives for children in year three and four children are listed below. These will be covered throughout the school year, and be present in the front of your child's books. These are a clear and consistent element to all books at the school and are used by teachers to carefully plan and sequence lessons. They are also utilised for assessment, and being presented in a child-friendly manner helps the children to work in collaboration with the teacher and support staff to identify areas of strength and areas for further development.
Over the course of the year, you will hopefully see these maps turn from white to pink. Pink identifies that a child has achieved a curriculum objective. If an objective is gold, this identifies that a child has mastered a curriculum objective. Teachers will identify individual areas for development at Parent Consultations using green.
For children to be working at ARE (Age-related Expectations) by the end of the year, we aim for 60% of these targets to be achieved within a subject. For children working above ARE, the target is 80%.
Reading Journey - Years 3 & 4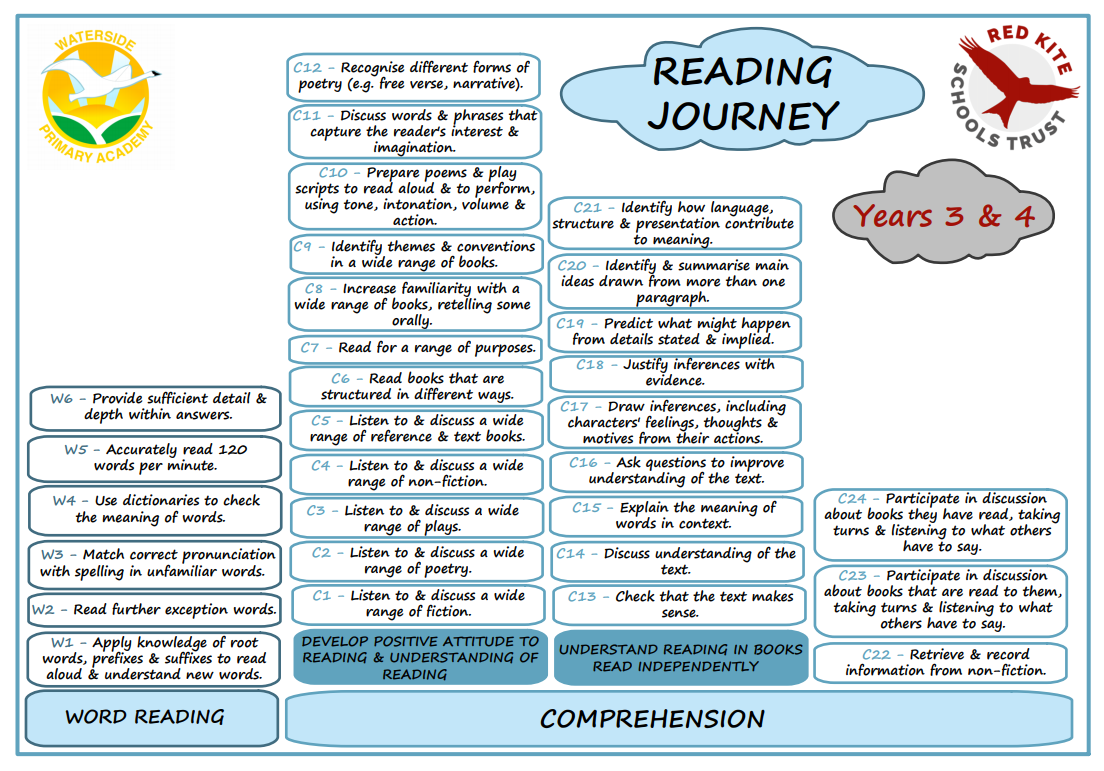 Writing Journey - Year 3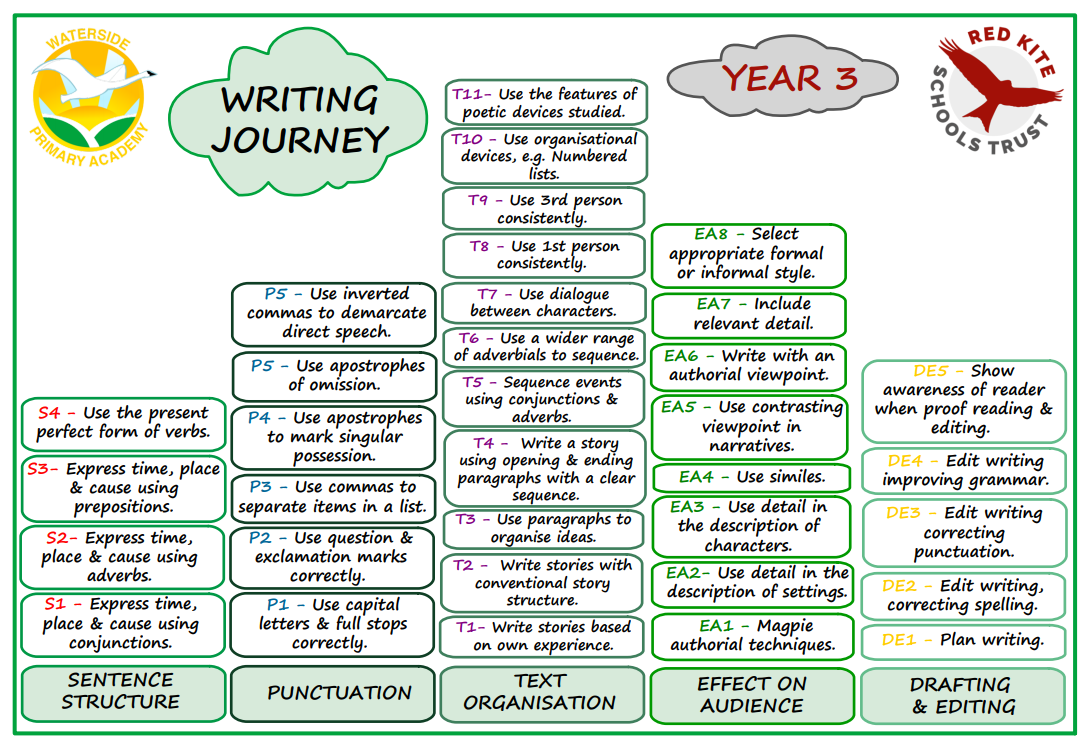 Writing Journey - Year 4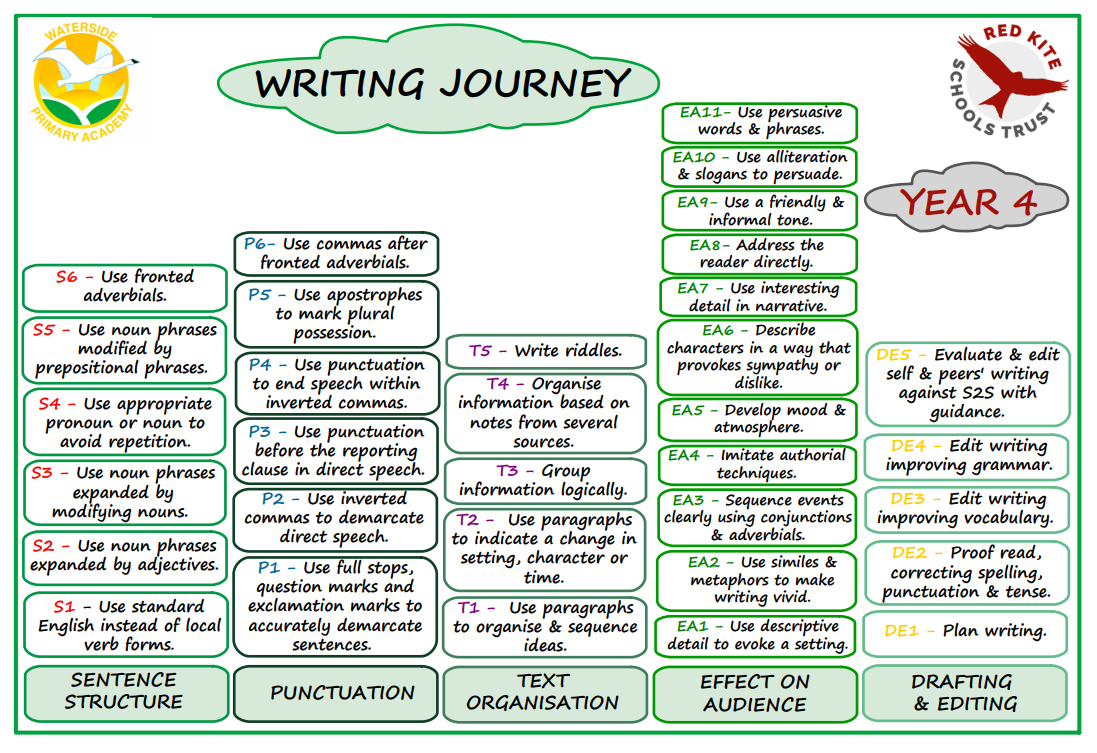 Maths Journey - Year 3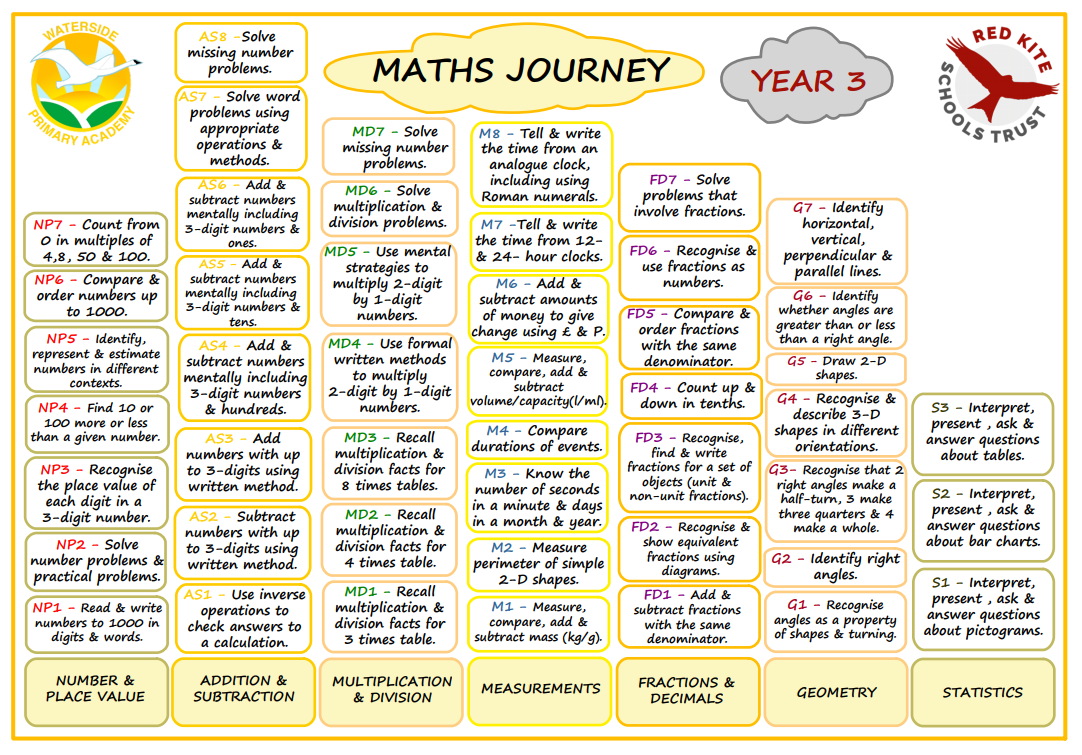 Maths Journey - Year 4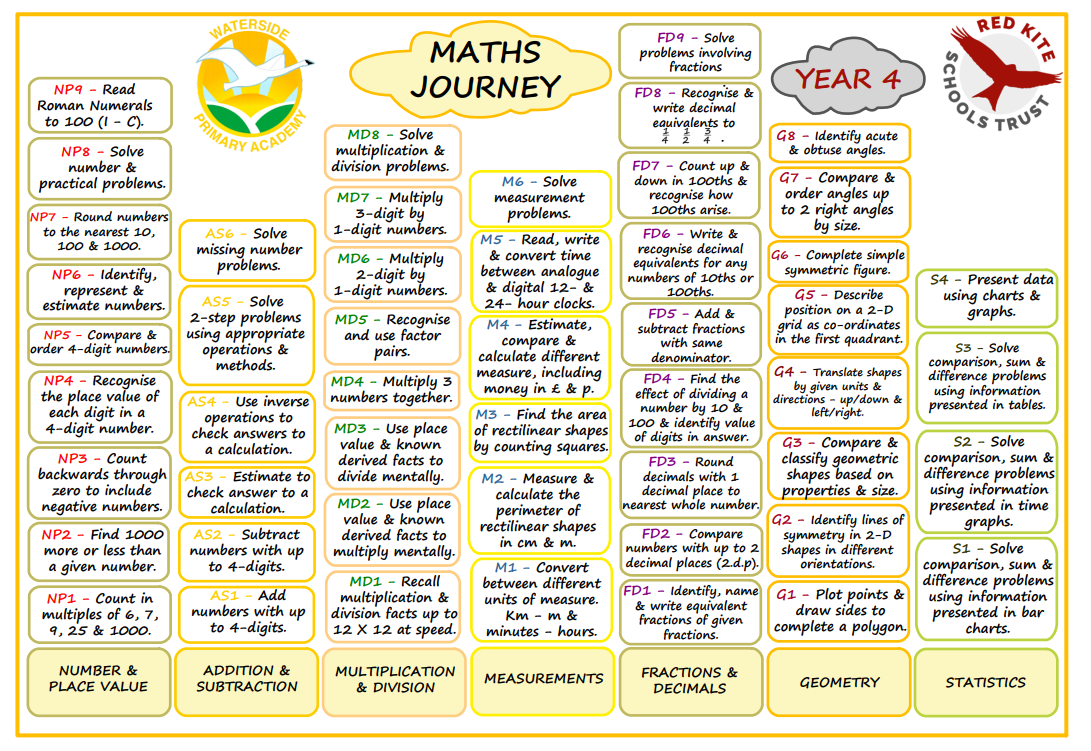 Science Journey - Year 3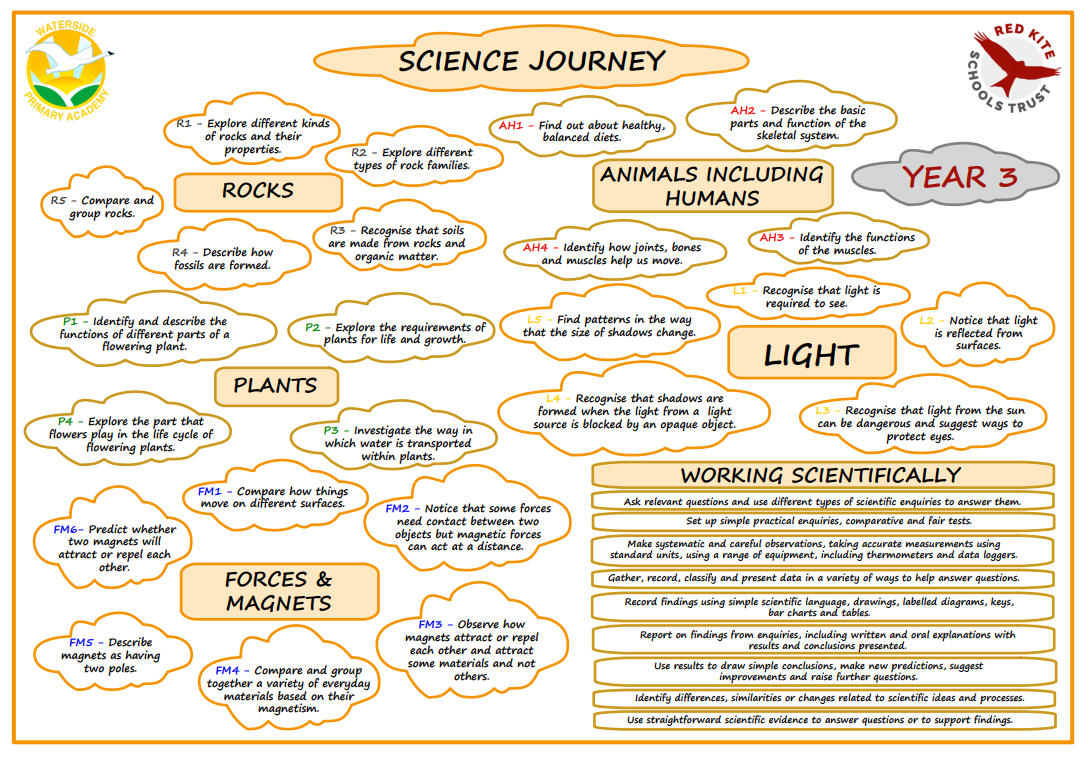 Science Journey - Year 4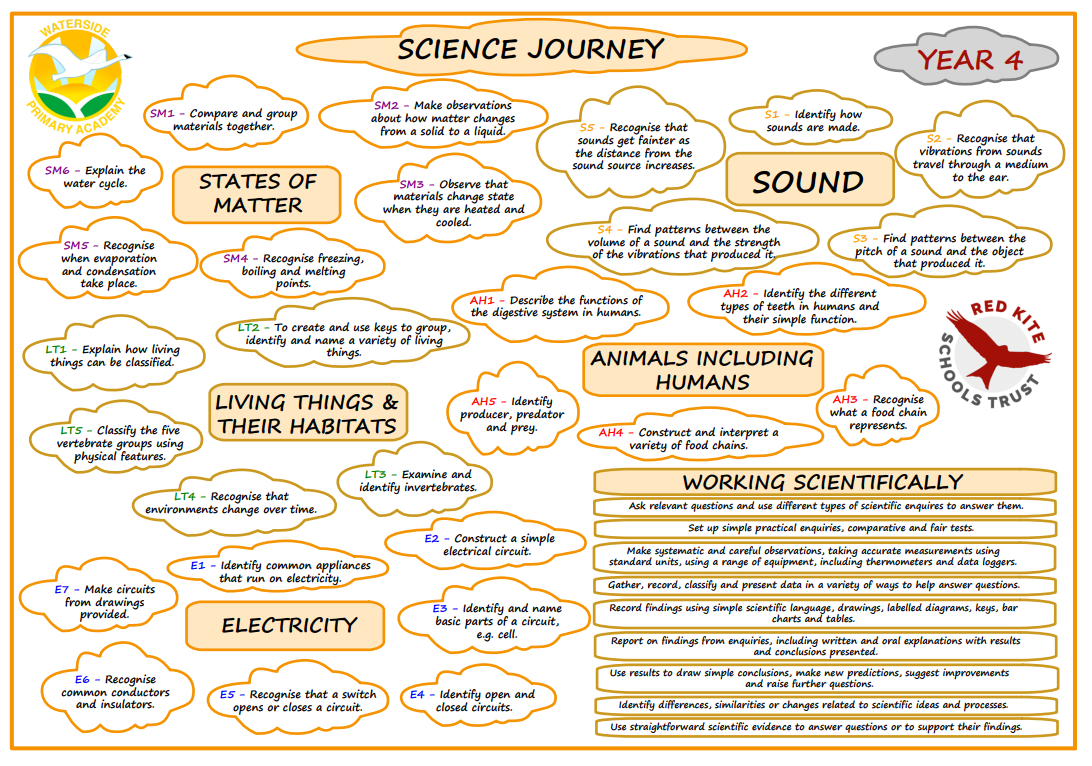 SPaG Journey - Year 3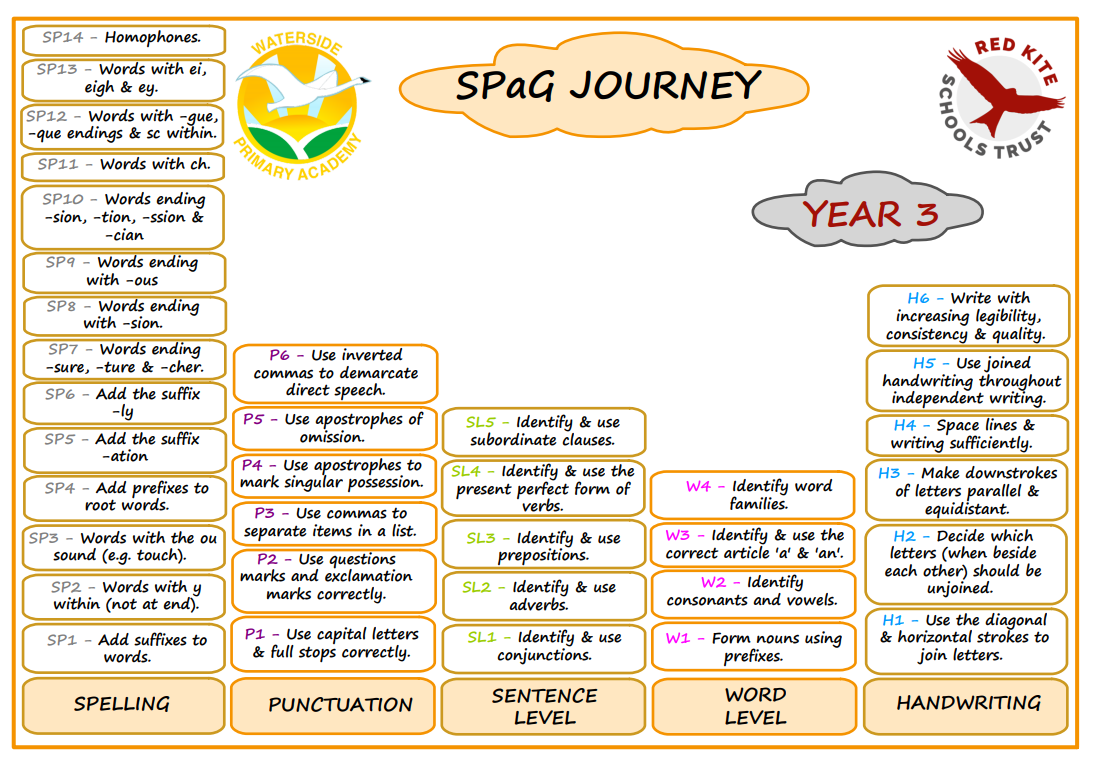 SPaG Journey - Year 4