Curriculum
Ensuring high standards of teaching is at the heart of our vision and we have high expectations of our staff. Our teachers are qualified primary experts and we are blessed to have excellent learning support assistants, some who have formed part of our school family for many years.
Our links with secondary schools within Chesham and the surrounding areas, particularly Chiltern Hills Academy and Chesham Grammar School, enables us to work collaboratively in many curricular areas. These include shared initiatives and specialist themed and subject days at the secondaries. On top of these wonderful learning opportunities, this assists with successful transitions between schools when our children move on to secondary.
The varied and different needs of students are met by our experienced staff. Our Inclusion Manager leads on support for pupils who have additional learning needs.
Our School Curriculum
At Waterside Primary Academy, we believe that the curriculum should chiefly be about the sort of person that school learning is meant to foster.
"We must remember that intelligence is not enough. Intelligence plus character – that is the true goal of education". - Martin Luther King
Our school curriculum is predicated on this belief and the emphasis is on developing the children as people and allowing them to "flourish" (Aristotle's word) in the fullest sense of their personality and character. As an academy, we follow and teach the National Curriculum (2014), whilst also ensuring that our learning journeys and lessons constantly teach our core school curriculum values which are stated in the image below.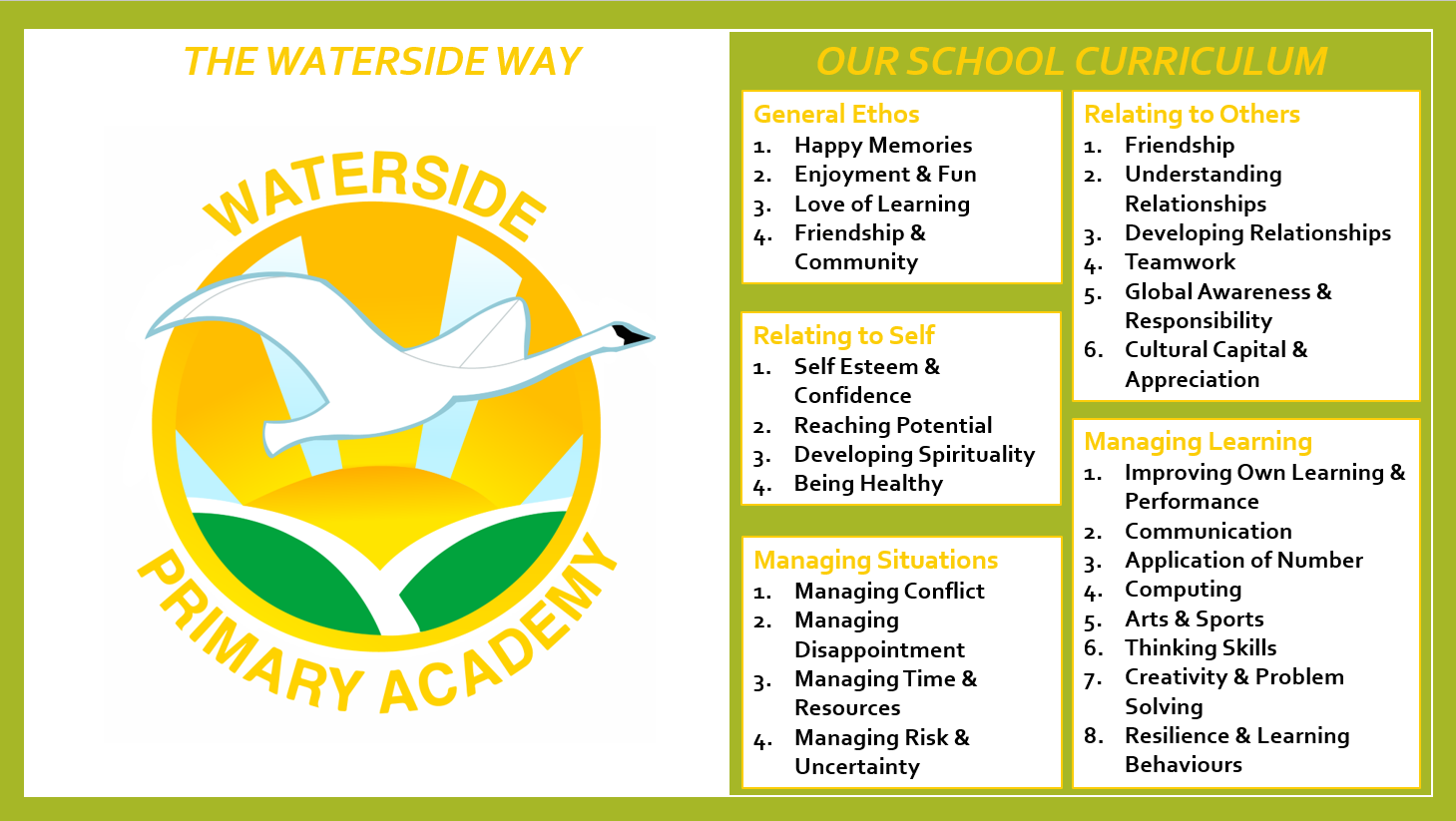 Overview
At Waterside Primary Academy, we believe that maths, reading and writing should be at the heart of a child's learning and therefore form key elements of every learning experience. Our children develop their reading, writing and number skills every day to ensure solid foundations for learning.
In order to ensure that our children gain a broad, balanced and engaging curriculum during their time with us, we also offer science, languages, history, geography, philosophy, music, art, drama, computing, and PE.
Our approach, school grounds and our wonderful geographical location nestled in The Chilterns, encourage play and exploration, allowing students to develop their independence, curiosity and creativity.
Reading
Reading - Intent, Implementation & Impact Statement
In order to teach our children to read accurately and fluently with good comprehension, we use Ruth Miskin's Read Write Inc. phonics programme from the start of Nursery. In this programme, children learn the English alphabetic code: first they learn one way to read the 40+ sounds and blend these sounds into words, then learn to read the same sounds with alternative graphemes.
They experience success from the very beginning. Lively phonic books are closely matched to their increasing knowledge of phonics and 'tricky' words and, as children re-read the stories, their fluency increases.
In Nursery, the children will be exposed to some sounds at a later point in the year, before then they are taught the picture prompts that match each sound we teach. The main focus in Nursery is for children to enjoy stories. They will have several stories read to them each day and access to books at all times throughout the day. In addition, each week, each child will bring home a 'Sharing Book' to enjoy!
Children in Reception, Year 1 and Year 2 have at least two reading books each week once they are able to blend three letter words and read 'Ditty' sheets. One book is a class book which they should continue to read for fluency at home, with the other being selected from a range of books with the same phonetical sounds to embed their new learning. It is vital that children read these books at home, both independently and out loud. In addition, every child will bring home a 'Sharing Book' to enjoy each week!
Along with a thought-provoking introduction, prompts for thinking out loud and discussion, children are helped to read with a storyteller's voice. This scheme is accompanied by popular children's stories, which are read by children and adults in a Reading for Pleasure (R4P) session on a daily basis. These are normally linked to the topic that the children are studying at that time.
For parental support, we hold phonics sessions during the school year. Furthermore, support can also be found on Ruth Miskin's website. This includes video tutorials on the scheme, including how to say each sound. To access these, click on the link below:
https://www.ruthmiskin.com/en/find-out-more/parents/
Once the children are able to read accurately and fluently, our children transfer onto the Accelerated Reader programme. This transition will generally occur at some point during year 2. Pupils develop reading skills most effectively when they read appropriately challenging books – difficult enough to keep them engaged but not so difficult that they become frustrated. This is their 'Zone of Proximal Development' (ZPD). Every Child at Waterside will have their own ZPD, which they use to select appropriate books to read and then complete a comprehension about. The children complete half-termly 'Star Reader' assessments which determines their ZPD moving forwards.
Books can also be purchased from Accelerated Reader Book Finder, which allows parents and guardians to select appropriate books in consultation with the children. This allows books to be found which are within their ZPD, of a particular genre and also for their interest level. The link to AR Book Finder is below:
https://www.arbookfind.co.uk/UserType.aspx?RedirectURL=%2fdefault.aspx
Here is some information which explains how Accelerated Reader is used:
Accelerated Reader Information
Accelerated Reader Power Point
Parents Guide to Accelerated Reader
Writing
Writing - Intent, Implementation & Impact Statement
We also use Read Write Inc. for writing in Early Years and Key Stage 1. Children write every day, rehearsing out loud what they want to say, before spelling the words using the graphemes and 'tricky' words they know.
They also practise handwriting every day: sitting at a table comfortably, they learn correct letter formation and how to join letters speedily and legibly.
Children's composition (ideas, vocabulary and grammar) is developed by drawing on their own experiences and talking about the stories they read.
Across Key Stage 2, teachers carefully plan writing tasks around their topic to ensure that writing has a clear purpose.
Maths
Maths - Intent, Implementation & Impact Statement - CLICK TO VIEW
We follow the mastery scheme 'Power Maths' for children in Reception through to 6. This scheme will be used fully throughout the school from September 2020 in all year groups. We believe that this approach develops a culture of deep understanding, confidence and competence in maths – a culture that produces strong, secure mastery learning and real progress.
For further information, please read the parent information below:
Power Maths - Parent Information
Our calculation policies can also be found below:
Calculation Policy - Key Stage 1 (Years 1 & 2)
Calculation Policy - Lower Key Stage 2 (Years 3 & 4)
Calculation Policy - Upper Key Stage 2 (Years 5 & 6)
Creative Curriculum - Pathways (History, Geograohy, Art & Design & Design Technology)
History - Intent, Implementation & Impact Statement
Geography - Intent, Implementation & Impact Statement
Art & Design - Intent, Implementation & Impact Statement
In order to provide a rich and creative curriculum for our learners, every class studies four topics (called 'Pathways') each academic year. The Pathways are non-subject specific, which allows for fluidity in our curriculum and usually start with a series of questions posed by the children which guides the learning through the topic.
Although only in its infancy, we believe we are on track to develop and embed an exciting and engaging curriculum which promotes a depth of knowledge across the primary curricular subjects.
Further information about topics and subject progression in our 'The Waterside Way' curriculum booklet below: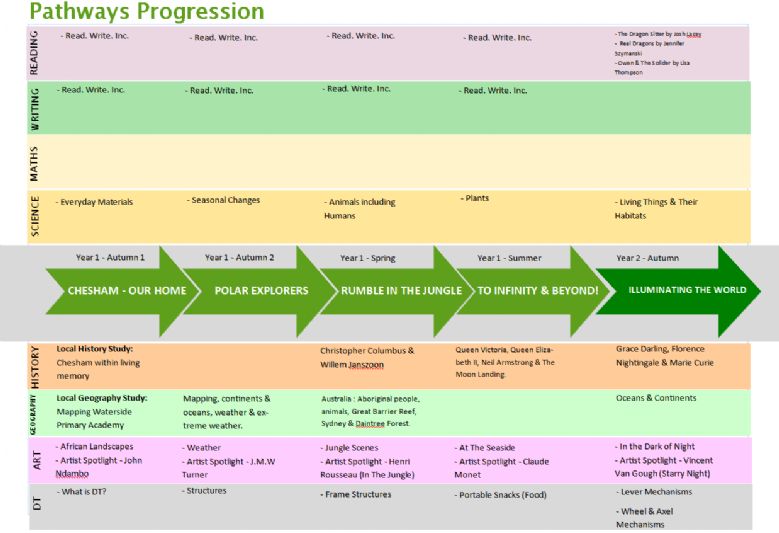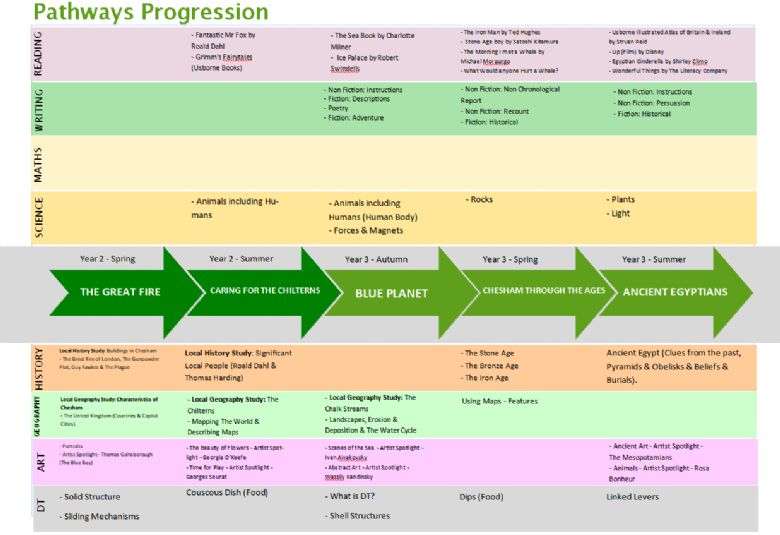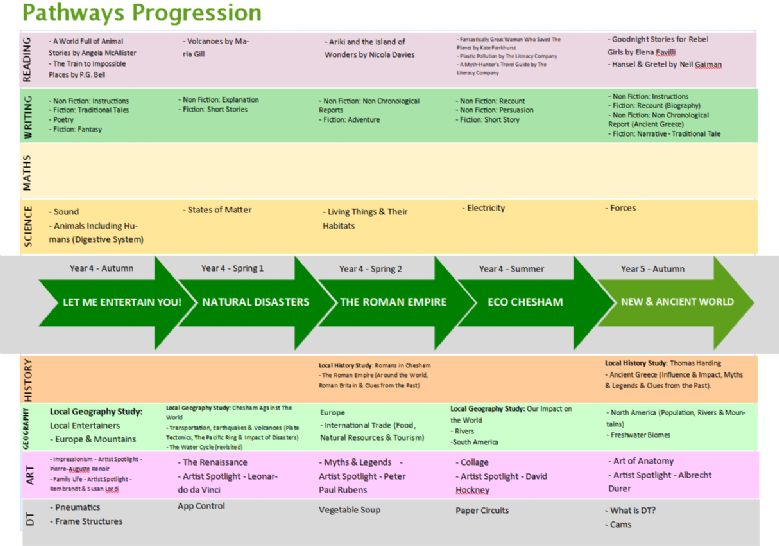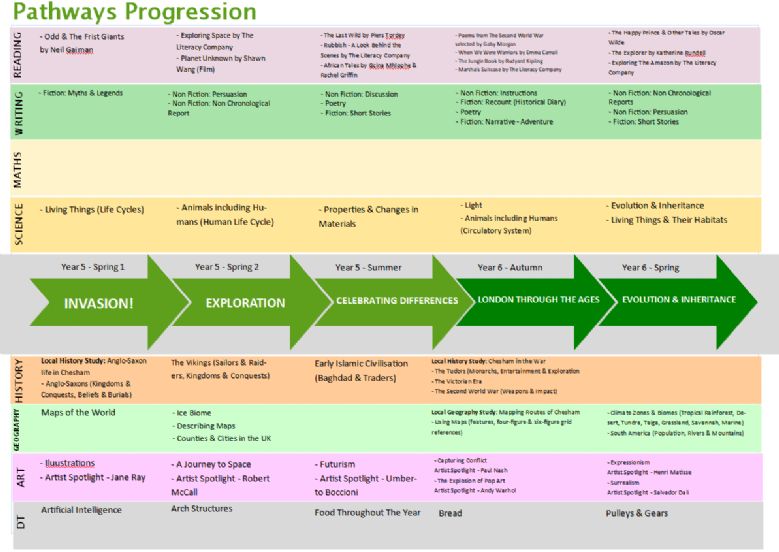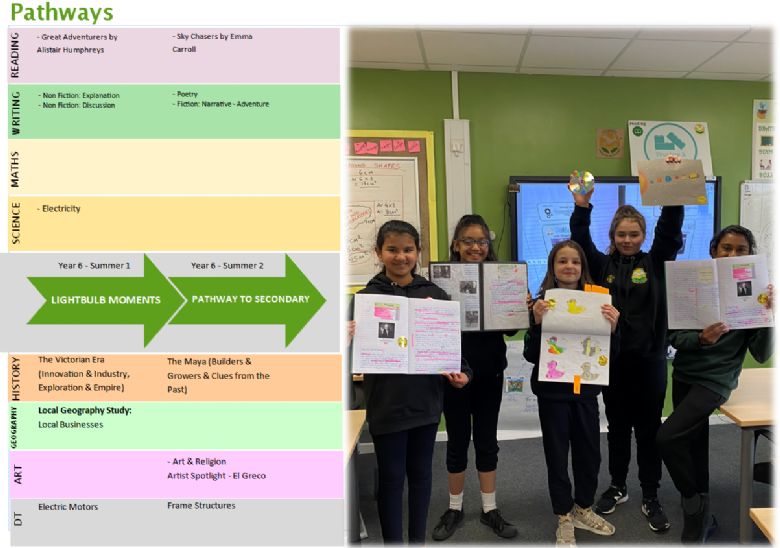 Physical Education (PE)
PE, physical activity and sport are key elements of a child's development. Therefore, we're supporting our capacity of PE and activity at Waterside Primary Academy each year, initially by investing in the local School Sport Partnership (SSP) which will increase opportunity for our pupils to participate in both fun and competitive physical activity, events and leagues.
The delivery of PE across the school is provided to our pupils by specialist coaches from 'Inspire Sports'. These lessons allow greater opportunities to learn through active teaching, supported by our spacious indoor and outdoor facilities, which provide an excellent platform for develop physically literate pupils.
We want our pupils to enjoy a healthy lifestyle, with regular exercise, with the aim of developing mental, social and personal qualities that are promoted through physical activity. Children are invited to participate in the 'Morning Mile' on Tuesdays, Wednesdays and Thursdays, with classes also completing our Golden Mile course during the school day.
On top of this, qualities such as resilience, independence and the ability to work as part of a team will be promoted through the school year in an engaging curriculum.
Religious Education (RE)
We follow the Discovery RE programme in all year groups. The year group mapping for this can be found below:
Music
At Waterside, we follow the Charanga music scheme for our music lessons. The focus songs, music and skill progression for KS2 and KS2 are below:
We also benefit from specialist music tuition from Bucks Music Trust (BMT) who provide whole class and small group tuition to our students.
Currently, the year groups are learning the following instruments:
Years 1 & 2 - Drumming & Singing
Years 3 & 4 - Violin
Years 5 & 6 - Ukulele
Children can also organise individual and group lessons via BMT, with lessons taking place during school time.
Computing
We follow the KAPOW scheme for computing, with children participating in a full day computing project each half-term. The curriculum map is below:
MFL - French
Children in years three to six participate in fortnightly French sessions, delivered by a specialist teacher from our local secondary school, Chiltern Hills Academy. The curriculum overview for French is below:
PSHE
We follow the Jigsaw scheme for teaching PSHE across the school from nursery to year six. The curriculum overview for this is below:
Swimming
Swimming is currently offered in Year 3, as we aim to ensure all of our children can competently swim 25 metres in a range of strokes by the time they move into secondary.
We also promote water skills and safety, with children in year 6 taking part in these sessions for one full term.
Our pupils attend swimming lessons at Chesham Leisure Centre, supporting our aim that all pupils can complete the required 25 metres in a range of strokes by the time they leave in Year 6 and promote participation outside of school.
Pupils follow a timetable of lessons in which they cover the basics of swimming, as well as building their water confidence and water safety skills.
Further Information
Should parents or other members of the public wish to find out more about the curriculum we follow, or if you wish to ask questions regarding the curriculum, please email our school office who will be happy to assist.